Carter Holt Harvey LVL hySPAN®

hySPAN® is the LVL you've known for over two decades in traditional sizes. Manufactured for reliable performance, straight and true hySPAN LVL provides predictable and consistent performance.
hySPAN is easy to work with using traditional building tools and is clearly branded for easy identification. Readily available in long continuous lengths and thicknesses including 35mm, 45mm, 63mm and 75mm and section depths from 90mm to 600mm.
Features & Benefits
hySPAN is the product you've known for over two decades
H2-S TERMINATOR – termite protection with 25 year guarantee*
Available in long lengths up to 13.2m
Sourced from managed plantation forests – Available FSC 'Chain of Custody' certified upon request
Supported by technical support and software from Futurebuild
Start specifying today with new and improved designIT

®

series 5 software
Each stick is branded for ease of identification
EWPAA certified with quality control procedures
Produced for over two decades, hySPAN continues to deliver predictable performance with the backing of Australia's largest wood products manufacturer, Carter Holt Harvey.
* This product comes with a guarantee from Koppers. Conditions Apply. See www.kopperspc.com.au for details.
Compliance
hySPAN is structural laminated veneer lumber (LVL) which has been manufactured in accordance with AS/NZS 4357 with properties determined in accordance with AS/NZS 4063.2 and therefore complies with the requirements for structural design in accordance with AS1720.1.
hySPAN H2-S Terminator is available in all sizes and is part of the Futurebuild Terminator range. hySPAN H2-S Terminator is treated against termites south of the Tropic of Capricorn. The treatment is applied to the glue-line during manufacture to achieve full termite protection to the core of the beam. No further sealing is required on cut ends, holes or notches. Other treatment levels are available from suppliers on request, but treatment is limited to above ground use. hySPAN cannot be readily treated for in ground contact applications.
hySPAN is manufactured using an 'A' Bond with less than 0.5mg/l Formaldehyde (equivalent to E0) emissions from the final product.
For quality assurance the hySPAN range is manufactured with independent audit processes and product certification. Carter Holt Harvey ensures that its wood is legally sourced from managed forests and offer FSC 'Chain of Custody' certified upon request.
hySPAN is produced with a structural grade face and is not generally used in appearance applications and at the time of dispatch from the manufacturing site has a moisture content of between 8-15%.
Suitable Applications
hySPAN is suitable for most structural applications in residential, commercial, industrial and rural applications (following design verification). hySPAN is not intended to support brickwork or other heavy masonry products.
Range

Storage
For storage of hySPAN prior to installation the product should be:
Stacked on level bearers to keep flat and straight.
Stacked well clear of the ground for good ventilation.
Stored under cover to keep dry prior to installation.
Note: After installation, exposure to sun and rain for normal periods of construction is not ordinarily a cause for concern.
Installation
hySPAN may normally be installed and fixed in the same way as seasoned timber. AS1684 contains many standard details for fixing of timber members which can be utilised as required. In order to determine the capacity of fasteners used with hySPAN, joint group JD4 properties shall be taken to apply.
Rip Sawing hySPAN
Unlike graded timber, hySPAN may be rip sawn through the thickness to the smaller standard section depths without affecting the basic strength properties. Care should be taken however, to comply with the no negative tolerance specification (i.e. do not cut undersize).
Rip sawing through the depth to produce sections of reduced thickness may adversely affect strength properties and is therefore not recommended.
Software

Photo Gallery
Technical Note

Brochure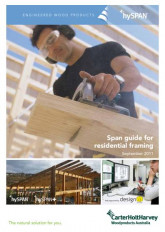 Sds