Carter Holt Harvey LVL hyJOIST®

hyJOIST® Engineered I-Joists are cost effective, lightweight I-Joists used in residential and commercial construction.
Consisting of structural LVL flanges and a structural web connected using a Type A waterproof bond, hyJOIST is strong, light and easy to install.
Features & Benefits
Consisting of structural LVL flanges and a structural web connected using a type 'A' waterproof bond
Available in 10 sections sizes and 3 different flange widths providing greater design flexibility for an economical floor joist layout
Installation and concealment of services within the floor space
Lightweight joist available in long lengths up to 13.2metres
Compliance
hyJOIST is manufactured using a Type A Bond with less than 0.3mg/l Formaldehyde (equivalent to E0) emissions from the final product.
hyJOIST H2-S is available in all sizes. hyJOIST H2-S is treated against termites south of the Tropic of Capricorn. Other treatment levels are available from suppliers on request, but treatment is limited to above ground use and hyJOIST is not suitable for weather exposed applications. hyJOIST cannot be treated or used in ground contact applications.
For quality assurance the OSB webbed hyJOIST manufacturing process is consistent with that applied in our Product Certification Scheme for plywood webbed I-joists. hyJOIST at the time of dispatch from the manufacturing site has a moisture content of between 8-15%.
Suitable Applications
Floor joists for houses and commercial floors
Roof rafters & purlins for houses and commercial systems (suited to low pitch applications)
Range
Storage
For storage of hyJOIST prior to installation the product should be:
Stacked on level bearers to keep flat and straight.
Stacked well clear of the ground for good ventilation.
Stored under cover to keep dry prior to installation.
Note: After installation, exposure to sun and rain for normal periods of construction is not ordinarily a cause for concern.
General Installation
For houses and similar buildings hyJOIST should be installed in accordance with the details supplied in the hyJOIST installation guide and in addition to many details in AS1684 and other industry publications.
Software

Photo Gallery
Technical Note
Brochure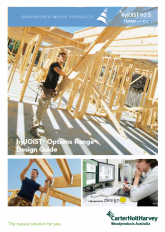 Futurebuild hyJOIST Design Guide
More options for more economical floor joist layouts. Caters for any larger spans in the floor area using the wider flange options of corresponding depth.
Sds